DAWBOX DIY Recording booth series
4'x6'x7' Pro Recording Booth Plans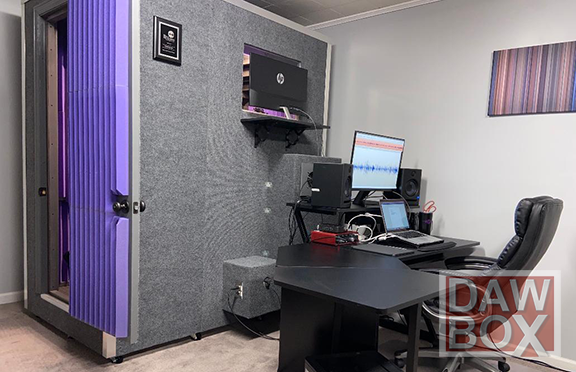 Get instant access and start building your dream booth.
467 USA and Metric Cut Sheets


467 Extensive Materials List

467 Single and Double Panel Design

467 Multiple Video Chapters


467 Pro Voice Over Sound

467 3D Animations

467 Technical Drawings

6 Month Access
Build a professional 4x6x7 recording booth in a weekend! Single or Double wall design that is a true floating isolated design rivaling pre-made booths costing $10,000. Build our proven designs for thousands less. More money for gear is always a great idea!
The DAWBOX® series of recording booth plans are single or double wall and are true isolation structures. Our designs are proven in the field by professionals in every industry the world over for over a decade.
Constant D.I.Y. Evolution
Our new platform allows you to have access the latest content and mods as we add them.
Get more for less
Why would you pay $10,000 for some single wall cheap OSB pre-made with metal brackets? Build our new flagship double wall design for $900-1800. With your focus on acoustics and DIY savings from our plans, you will have extra cash to pick up that new DAW, soundcard and dream microphone!
Meet the instructor
Justin A. Lynch
Justin has been writing, recording and producing his own music since 1992. Having produced and mixed indie artists from Hiphop, Indie, Rock, Alt Rock, Alt Folk, Alt Country, to music of the Andes. Justin has over 22 years of computer DAW build experience and has helped thousands of aspiring professionals reach there acoustic and studio goals. A prolific singer songwriter, multi instrumentalist, VO professional, mix engineer, producer, product designer who draws from real world experience and wisdom behind a wealth of knowledge. DAWBOX ® has been the #1 resource for DIY recording booth plans for the last 15X years. Tap into the knowledge to propel your career.
Created with