DAWBOX DIY Recording booth series
4'x6'x7' Pro Recording Booth Plans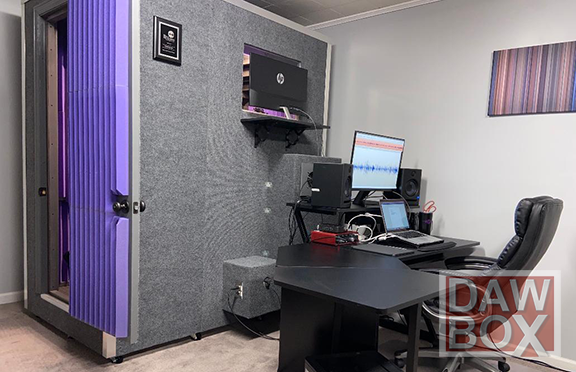 Get instant access and start building your dream booth.
Instant Access! IOS, Android, MAC, PC

Imperial and Metric Cut Sheets


Extensive Materials Lists Summer/Fall 2022

Single or Double Panel Design

Video Chapter Instruction


Pro Voice Over Sound

3D Animations

2D Technical Drawings

6 Month Access
Build a professional 4x6x7 True Silent Solid Wall Isolation Booth, Recording Booth, Vocal Booth, in a weekend starting at $1000 USD. Our proven Single or Double wall design is a true floating isolated design rivaling pre-made booths costing $10,000. Build our proven designs for thousands less. More money for gear is always a great idea!
The DAWBOX® series of recording booth plans are single or double wall and are true isolation structures. Our designs are proven in the field by professionals in every industry the world over for over 15 years.
You love the idea of having your own recording booth and getting rid of all that horrible noise in your tracks. One size does not fit all and that's why our designs are scalable smaller, larger or taller. You can also interchange the window or door on any wall. Our clients have added all kinds of custom touches over the years. Our DIY design allows you to make changes to our base design to fit your needs.
Get to building your dream ASAP.
From our imperial to metric materials list to our extensive on point option supplies and SKU lists, nothing even compares to our DIY recording booth & vocal booth designs. Save weeks of time and get proven results. Our designs are portable, affordable, effective and use off the shelf construction materials that are available world wide from any big box supply store.
Get more for less
Why would you pay $10,000 for a recording booth, vocal booth? Build our new flagship double wall design for 1/4 the cost. With your focus on acoustics and DIY savings from our plans, you will have extra cash to pick up that new DAW, soundcard and dream microphone!
Meet the instructor
Justin A. Lynch
Justin has been writing, recording and producing his own music since 1992. Having produced and mixed indie artists from Hiphop, Indie, Rock, Alt Rock, Alt Folk, Alt Country, to music of the Andes. Justin has over 22 years of computer DAW build experience and has helped thousands of aspiring professionals reach there acoustic and studio goals. A prolific singer songwriter, multi instrumentalist, VO professional, mix engineer, producer, product designer who draws from real world experience and wisdom behind a wealth of knowledge. DAWBOX ® has been the #1 resource for DIY recording booth plans for the last 15X years. Tap into the knowledge to propel your career.
Created with