DAWBOX DIY studio ventilation series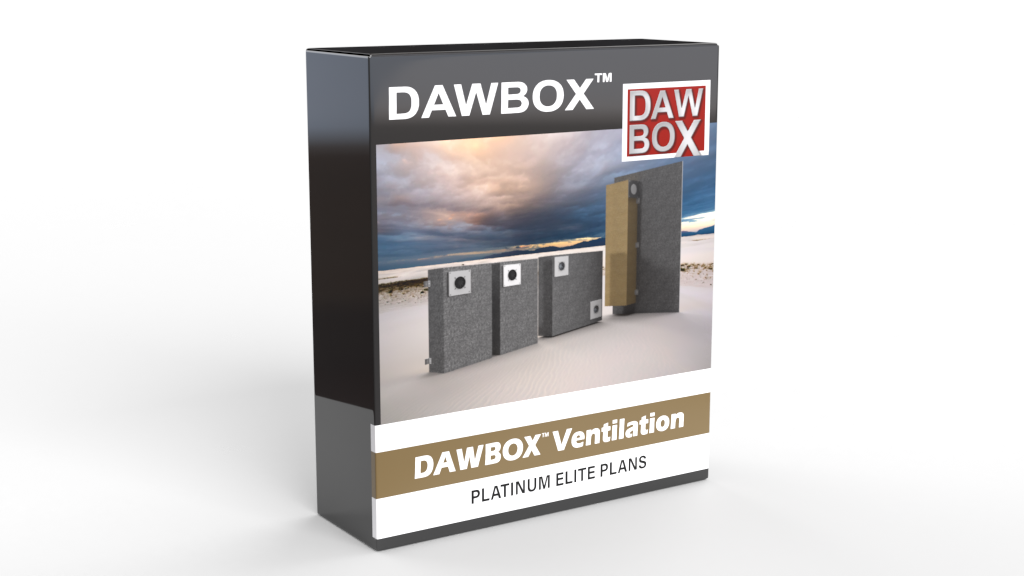 DAWBOX Studio Ventilation Plans




Get instant access and get to building your dream booth.
Summer 2022 Price Lists!

Instant Access: IOS, Android, Mac, PC

6 month all access 1X client build

Multiple materials options

In-Depth Video


Pro voice work

3D Animations

Technical Drawings

Multiple build options

Works with any size booth or studio.
DAWBOX® Pro Ventilation

B
uild a professional ventilation system for your new booth, control room, live room, or zen space in a weekend! Don't pay crazy prices when you can simply use our rock solid ventilation units to scrub the air.
Silence is golden
Most off the shelf systems are too loud to be effective in the studio. We show you how you can build a silent system with a high enough CFM for your space at rock bottom prices.
As a VO artist or musician it is critical that you have proper ventilation in your space. Not only for comfort but also for safety. You only get one set of lungs and a lack of ventilation in a small space with acoustic foam or fiberglass/rockwool can damage your lungs.

The industry secrets
At DAWBOX we are constantly evolving our products and services. We pass our knowledge and expertise on to you so that you can get down to the business of being an artist, installer, or contractor. Nobody wants to be wasting hours of time online listening to every opinion under the sun. You need to get your project done for your client and move on to the next goal.
Meet the instructor
Justin A. Lynch
Justin has been writing, recording and producing his own music and content since 1993. Having produced and mixed indie artists from Hiphop, Indie, Rock, Alt Rock, Alt Folk, Alt Country, to music of the Andes. Justin has over 22 years of computer DAW build experience and has helped thousands of aspring professionals reach there acoustic and studio goals. Justin is a prolific singer songwriter, multi instrumentalist, VO professional, mix engineer, producer, product designer who draws from real world experience and wisdom behind a wealth of knowledge. Justin has over two decades of experience with multitrack recording and production using a multitude of DAWs and software including ProTools, Logic, Acid Pro, SoundForge. DAWBOX ® has been the #1 resource for DIY recording booth plans for the last 15X years. Tap into his knowledge to propel your career.
Created with